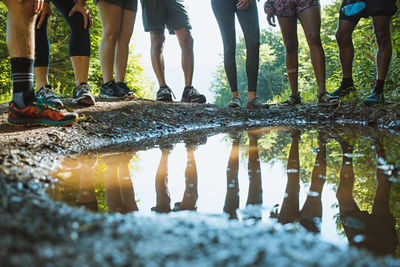 The Hunter area makes a great "home base" for hiking the Catskills. Whether you're hiking with family or friends, the beautiful northern Catskills have the trails -- and the scenery -- for you.
The beauty of the Catskills is legendary. This rugged countryside is crisscrossed with miles and miles of trails, ranging from the well-maintained network in and around North-South Lake to the rugged trails accessing the high peaks. These are the trails.... the difficult, steep climbs to the weathered summits... that make hiking the Catskills so popular. Views like this are numerous, and for the most part, easily accessible.
Other Catskills hiking resources:
There is a wealth of area hiking information including maps, trail descriptions, photos and more on the internet.
This guide to hiking in the Catskills is reproduced from a NYS Department of Environmental Conservation packet entitled "Catskill Trails."
The terrain throughout the Catskill Mountains is generally rugged and steep. Elevations range from approximately 600 feet to 4200 feet. Due to the topography of this region, major water supplies tend to be found only in the lower elevations. Small feeder streams, some of which may only run seasonally, may be present on or between mountains. These streams and occasional springs are the only available water supply.
Every effort is made to maintain the trails in a condition that permits easy passage in both summer and winter. Junction points are marked with signboards and the routes themselves with special circular trail markers in red, blue, or yellow colors. Trails often cross private land in gaining access to public land. These sections are posted with signs stating that the trail is on private land. The landowner has granted permission to use the trail, but he requests that the public do not camp, picnic, hunt or fish on his property. As long as the landowners' wishes are respected the trails will remain open for public use.