Let Your Little One Play & Learn With Us
Hunter Mountain Playcare
Hunter Mountain's Playcare offers childcare services just steps away from the slopes for children ages 2 to 6 years old. Enjoy a worry-free stay on the slopes while our staff entertains your child indoors with games, storytelling and crafts. The full day program includes 2 snacks and a lunch option for an additional fee. Children will be cared for by attentive and enthusiastic staff members within a safe and welcoming environment.
Childcare Programs
If your child has an allergy, please feel free to bring your own allergy-free lunch and snack.
Childcare Programs
Hours of Operations
Cost
Location
Playcare (call to book)
800-486-8376
Fri, Sat, Sun & Holidays
8:30am – 4:30pm

Full Day = $150 per child

Half Day AM = $75 per child (8:30am – 12pm)

Half Day PM = $75 per child (1pm – 4:30pm)

*Ski & Play = $130 per child

(full day playcare; lift, lesson, rentals are not included)

Lower Level of the Learning Center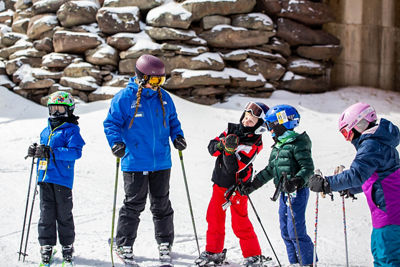 Be sure and ask about our Ski & Play Program!
Give your child an introductory ski experience in one of our lesson programs by adding this option to a full-day reservation. This program is geared towards little skiers and riders (age 3+) who participate in either morning or afternoon lessons, giving the parent the option of having their 3-6 year old cared for the entire day (up to 8 hours during regular PlayCare operation times). Children are dropped off in Playcare and signed out by one of our staff members for their lesson, then signed back in after. Lesson, lift tickets, and rentals are not included.
Children may be signed out by staff members only for the following programs:
Scouts (3-4 skiing)
Explorers (5-6 skiing or snowboarding)
Mini Mights
Mighty Mights
Private Lessons
Cancellation Policy
Hunter Playcare requires a full 24-hour cancellation or change notice prior to the day of cancellation. All cancellations with less than 24 hour notice will result in a full day program charge per child. To avoid this, please call by 8:30am or earlier, the day prior to a session to cancel. Voicemails left outside of business hours will be accepted as cancellation notice.
Childcare Restrictions and Requirements
You must complete a health screen for your child each day they are in attendance with any of our programs. Please click here to access the health screen form.
Your child must be signed in to Playcare at least 30 minutes prior to their scheduled lesson time.
Parents/guardians of children registered for Playcare or related Children's Programs must be on premises while their child is enrolled.
Your child must be toilet-trained- not in diapers or pull-ups for all on-snow programs. Appropriate snow conditions are required to run the outdoor programs.
We do not allow peanut butter or any peanut products in our facility.
Childcare Illness Policy
The health and safety of our guests is first priority and we take this very seriously. Strong health and safety practices are the heart of our child programs. A key to preventing illness in a childcare setting is to form trusting relationships between parents and teachers around sharing important health information about your child's condition when they are admitted.
If your child has fever, sore throat, diarrhea, or is nauseous or vomiting, they will not be accepted into care. If your child has recently been ill, they must be symptom-free, without the benefit of medications, for 24 hours.
Each child will be observed for common signs of illness at arrival and throughout the day. A child who is ill upon arrival to the facility will not be admitted. Parents or guardians will be notified to pick up their child immediately, if the child becomes ill during their stay.
A physician's note stating a child is no longer contagious will be required when a child has healing lesions or other symptoms suggestive of communicable disease.
Refusal Policy
Hunter Mountain reserves the right to refuse a child due to age, communication barriers, tardiness, behavior, availability, or readiness for the program. Children in our lesson programs should be prepared to ride lifts with other members of the public, Hunter Mountain staff or by themselves. Your child must be toilet trained – not in diapers or pull-ups for any on-snow program. Appropriate snow conditions are required to run the outdoor program. Hunter Mountain does not refund money for children who do not want to be on snow and are in our care.
Set your child up for a lifetime of fun & adventure with the help of our world-class Instructors (ages 3+).
Pass Holders receive 20% off group lessons with Epic Mountain Rewards.